Cowabunga Lite
Cowabunga Lite has already been released for iOS 16 to iOS 16.6 versions. The CowaBunga Lite tool also works with the latest iOS 17 jailbreak. Currently, Cowabunga lite package supports both Windows and macOS operating systems. Download the Cowabunga Windows and macOS versions from below.

The Cowabunga Lite is an updated version of the Cowabunga app and you can use it to add more jailbreak features.
macOS Links
Download CwaBunga Lite 1.2.1
Windows Links
CowaBunga Lite's old versions
Please note that -
1. Cannot provide a direct download and Register on Cowabunga_iOS Patreon to get the latest version of Cowabunga Lite.
2. This download link is only for the macOS and does not support without PC or Windows computers.
CowaBunga for iOS 17
The CowaBunga lite tool has already been tested with iOS 17 Beta and working fine according to developers' tweets.

Some users already customize Status Bar (also carrier name). So CowaBunga Lite's full version will be released soon for the public. Read other available options for iOS 17 jailbreak.

Image for customize Status Bar (also carrier name) change -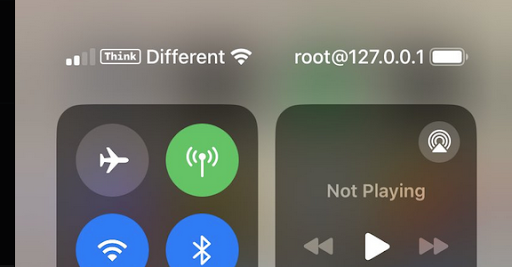 CowaBunga Lite KFD Toolbox
The KFD exploit-based CowaBunga Lite Toolbox was released for iOS 16.2 - iOS 16.5 versions.

Full Support iOS versions - iOS 16.0, iOS 16.0.1, iOS 16.0.2, iOS 16.1, iOS 16.1.1, iOS 16.1.2, iOS 16.2 ,iOS 16.3, iOS 16.4, IOS 16.4.1, iOS 16.5, 16.6 beta 1.
Compatibility Devices
iPhone 14, iPhone 14 Plus, iPhone 14 Pro, iPhone 14 Pro Max, iPhone 13, iPhone 13 Mini, iPhone 13 Pro, iPhone 13 Pro Max, iPhone 12, iPhone 12 Mini, iPhone 12 Pro, and iPhone 12 Pro Max, iPhone 11 Pro Max, iPhone 11 Pro, iPhone 11, iPhone Xs, iPhone Xs Max, iPhone XR, iPhone X, iPhone 8, iPhone 8 Plus.
Cowabunga Lite features
The Cowabunga Lite tool currently supports the following features.
Icon theming ( Change iPhone and iPad Theme )
Status Bar Customize
SpringBoard options
Setup options
How to use Cowabunga Lite?
Make sure to turn off the Find My iPhone feature before using the app.
Use the Cowabunga Lite Patreon link to get the macOS support download link.
Then open the Cowabunga Lite from the macOS.
Connect your iPhone or iPad to macOS.
Once Devices connect to macOS, the Cowabunga Lite app will recognize your iPhone and will display a support message.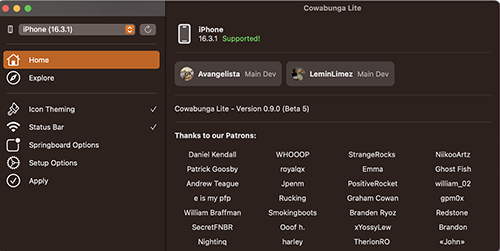 Control Center Customize
Now you can use the CowaBunga Lite tool to change
Mute Module.
Focus UI mode.
Siri Spoken notifications modules.
Cowabunga Lite - Card Changer
Now, you can change the waller card with the CowaBunga Lite tool. This is the very latest feature of the tool and customize your Wallet app with the CowaBunga Lite. So you have to download the latest version of CwaBunga Lite
Cowabunga Lite - Icon theming
With The Cowabunga Lite tool, you can add new themes. If you have an icon pack, you can export it to the app or you can use default themes.
Tap the browse section to view more themes and tweaks.
Tap download theme and then it will add to your icon theming section.
Go to the icon theming tab and tap Enable.
Now select any theme.
Tap apply.
Device will reboot and check the home screen for a new theme.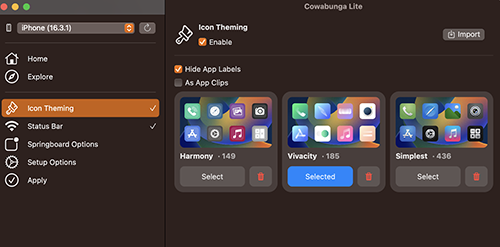 Cowabunga Lite - Status Bar
From the Cowabunga Lite tool, you can customize the status bar also.
Open the tool and navigate to the status bar.
Then tap enable.
Now you can see many features.
Click tik mark to enable and tap apply.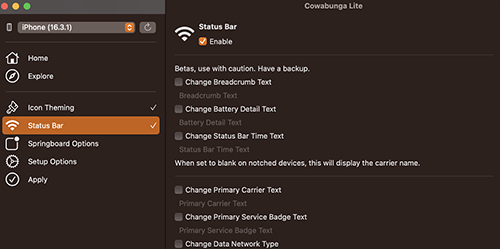 Cowabunga Lite - SpringBoard options
There are massive features available in this section. For example, you can do the following changes
Disable lock after respring.
Disable screen dimming while charging.
Disable low battery alerts.
Mute models in CC.
Show known wifi networks.
CC enabled on lock screen.
Many more.
Tap the apply button after changing the settings.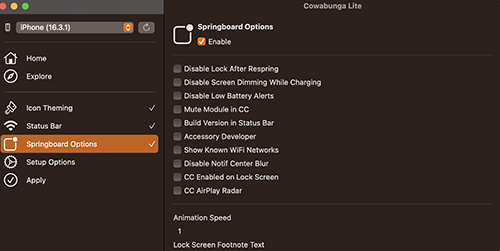 Cowabunga Lite - Setup options
With this section, you can - Disable OTA updates / Enable supervision.
Tap apply button after changing the settings.