Dopamine Jailbreak IPA For iOS 15.0 - 15.4.1 (Fugu15 Max)
Dopamine is the newly released semi-untethered permasigned Jailbreak tool for iOS & iPad OS 15.0 - 15.4.1 and it's an extended version of Fugu15. This tool is compatible with ( arm64e A15 - A12 & M1 ) iDevice Models. What's more, it supports popular package managers such as Sileo & Zebra.
Dopamine supported iOS versions
iOS 15.4.1 / iOS 15.4 / iOS 15.3 / iOS 15.2.1 / iOS 15.2 / iOS 15.1.1 / iOS 15.1 / iOS 15.0.2 / iOS 15.0.1 & iOS 15.
Dopamine supported iPhone and iPad Devices
iPhone 13 Pro Max, iPhone 13 Pro, iPhone 13, iPhone 12, iPhone 12 Mini, iPhone 12 Pro, and iPhone 12 Pro Max, iPhone11, iPhone 11 Pro, iPhone 11 pro max, iPhone XS, XS Max, XR, iPhone X, iPhone 8 Plus, iPhone 8, iPhone 7 Plus & iPhone 7.

iPad Pro (3rd Gen), iPad Pro (5th Gen), iPad Air (5th Gen)

With the release of a developer version of Dopamine last week, iPhone users were eagerly waiting for its public version to arrive.

Now they have that opportunity. As of this week, you have the chance to use its official free Dopamine version.

This brand-new tool has a rootless jailbreaking process, so it doesn't require full access to your iOS device's operating system. You can experience with this jailbreak tool with great usability improvement.

Opa334, the developer of this tool, he was fixed the wifi bug issue and improved it to support the integrated tweak. Another feature is this jailbreak tool works with a wide range of iOS versions.

This latest Jailbreak tool supports multiple package installers including Sileo and Zebra. During the jailbreaking process, you can easily select the package installer that suits your needs.
Download and Install Dopamine Jailbreak Tool [ A15 - A12 ]
By using TrollStore, Dopamine can be signed on your device permanently, which means that you do not need to sign in every 7 days. If you are using AltStore or Sideloady methods, these methods need to sign IPA again.
1. Download IPA
It is possible to download Dopamine IPA by using this "Download IPA" button.
Once you download it to your device, you can open it from the Trollstore or AltStore apps.





If you haven't already installed the Trollstore app on your device, download it using the link below.




2. Open in TrollStore
If Trollstore is already installed on your device, tap the 'Open in Trollstore' button to quickly download and install the Dopermine IPA directly through the Trollstore app.





After installing this tool, iOS users have the ability to temporarily hide the jailbreak or remove it completely from their devices.

Dopamine developers are constantly updating their rootless jailbreak tool to provide a great user experience. The latest release, version 1.0.4, includes a range of new features and bug fixes, such as the resolution of a forkfix issue that caused file descriptions to leak under certain conditions.

In addition, the developers have improved the usability and user interface of the jailbreak tool and made the forkfix feature more similar to a regular fork. They have also added a new IPC hook and have promised to deliver more useful updates in the future.
Package managers for Dopamine tool
The Sileo and Zebra both packages support to Dopamine jailbreak tool. Users can choose Zebra or sileo package manager before starting the jailbreak process.

So Dopamine jailbreak never supports Cydia install. The Cydia developer saurik not updating it since iOS 14.8.1 version.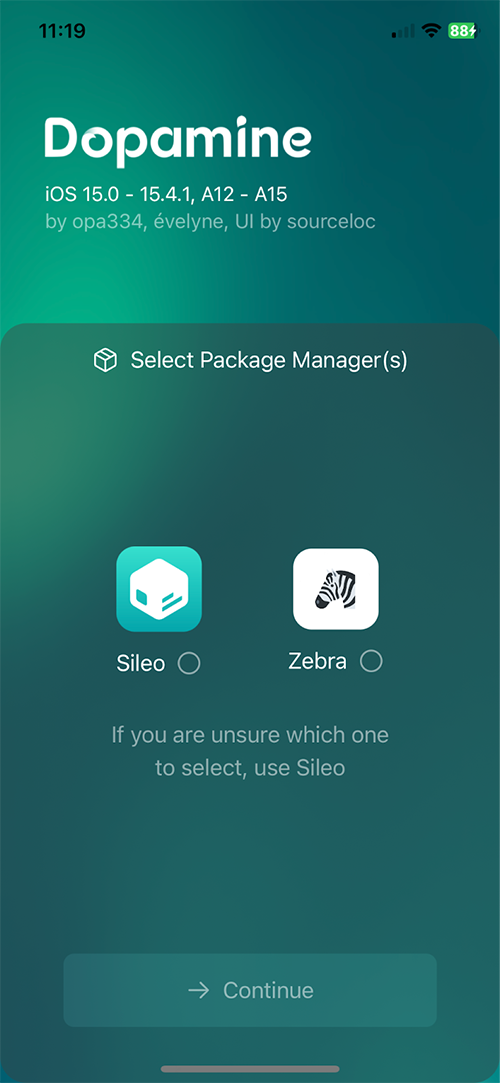 Supported Rootless Repos
There are a limited amount of repositories that have been updated to support rootles tweaks. We have mentioned a list of valuable repositories for the dopamine jailbreak.
1. BigBoss Repository - Dopamine comes pre-installed with this Repo on all jailbroken devices. Categories are provided for all rootless packages, themes, widgets, carrier bundles, add-ons, data storage, entertainment, games, system fonts, utilities, and widgets, making it easy to navigate through them all.
2. Sileo Repository - A modern APT Package Manager for iOS 16 - iOS 15 is Sileo, which prioritizes speed & usability as its main features. It is a great alternative to Cydia, the latest version of the Sileo package manager for Dopamine can be found in the rootless repository.
3. Chariz Repository - This is a well-known cydia source, featuring tweaks, themes, utilities, jailbreak tools, free and paid packages, and useful iOS modifications.
4. Havoc Repository - As Packix's successor, Havoc is a newly launched repository that provides access to some of the best free and paid Cydia tweaks and apps that have been released for jailbroken devices thus far.
5. Software Repository - Support for rootless packages has been added to the TIGI Software Repository, allowing users to install packages such as Filza, Filza 64-bit, and Apps Manager that have been released for rootless jailbreaks from this source.
6. Limneos Repository - Offering numerous system enhancements for jailbroken devices is Elias Limneos, a creative iOS tweak developer. By using this repo you can get BioProtect XS, CallBar XS, AnsweringMachine XS, VoiceChanger XS, Audio Recorder, InstaOnlineMonitor, AudioRecorder XS, and NFCWriter XS Tweak.
7. SparkDev Repository - A popular source for downloading jailbreak tweaks is the SparkDev Repository, which is also the root thing of the SnowBoard theming engine for iOS. SnowBoard can now be installed on rootless jailbreaks as well.
8. SkyPian Repository - This is another repo for getting rootless packages that help to add modern features to your device control center.
9. SOPPPra's Repository - This repo Support for rootless tweaks that can be installed on Fugu15 Max. From referring to this source users can download a couple of Control Center modules and SettingsRevamp for their iOS devices.
10. Procursus Repository - Access to nearly all the packages necessary for 3rd-party tweaks is provided by the Procursus Repository. You can get so many utilities and libraries designed for rootless jailbreaks from this source.
Supported Tweaks
If we find new tweaks that are compatible with Dopamine Jailbreak Tool, we will update you in the future, but for now, these few tweaks are already working with the tool.
1. PortraitXI - This tweak enables users to capture authentic portrait-mode pictures on a single-camera iOS devices.
2. Aperturize - Modify the depth of field (bokeh) in your pictures and enhance your portrait mode photography experience with Aperturize tweak, specifically designed for iOS devices with dual cameras.
3. Exiwall - Innovative feature of generating depth effect wallpapers, it replaces the subject in your wallpaper with a customized design displayed above the date & time on your device lock screen.
4. CopyLog - This is a smart clipboard history manager that simplifies the task of monitoring your device's copied items.
5. Cylinder Reborn - It enables awesome scrolling animations for your home screen, and the best part is that it works seamlessly with Apple CarPlay.
6. Dock Controller - The Jailbreak tweak that allows for the customization of the app display. The main features such as the ability to increase the number of apps displayed in the Dock, resize or disable the Dock, and change the Dock's style to Square, Rounded, or iPad-style.
7. Velvet - Personalizing the appearance of banners, Lock Screen notifications, and the media player on iOS devices is made possible with Velvet tweak.
8. SnowBoard - Enables users to change the appearance of their iOS 15 devices by replacing the default icons with new ones
9. Dodo - This jailbreak tweak is enhancing your lock screen perfectly by adding a new user interface. This new UI shows time, shortcuts to your apps, weather, and easy music control.
10. Spotilife - Get some premium features for free on the official Spotify app Spotilife, this tweak disables all ads, allows for unlimited skips, and unlocks the ability to stream extreme-quality sound.
How do Fugu15 Max Jailbreak and Dopamine Jailbreak differ from one another?
There is no major difference between Fugu15 Max and Dopamine Jailbreak. The only difference is the Dopamine Jailbreak tool is built with a unique name and Next-level User Interface.

However, once Dopamine Jailbreak is released, Fugu15 Max will be officially revoked.

All the code from Fugu15 Max, along with the latest updates, is included in Dopamine. As a result, the tweaks that were compatible with Fugu15 Max will continue to work on Dopamine, and it will support the same iOS versions and devices will be kept.

After releasing Dopamine Jailbreak and you still use Fugu15, then it means you are using outdated Jailbreak methods with limited features.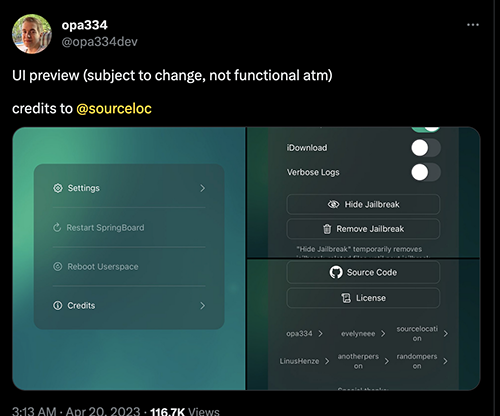 Alternative Methods to Dopamine Jailbreak
Uncover Jailbreak
Uncover semi-untethered Jailbreak for iOS 13.5.5 to 11 versions.
Odyssey Jailbreak
Odyssey is a semi-untethered jailbreak tool that works with iOS 13 to iOS 13.7 Devices including A13 Devices.
Checkra1n Jailbreak
Checkra1n is a great jailbreak tool for iOS 12 - iOS 14 versions.
Cheyote Jailbreak
Cheyote is another famous jailbreak solution for iOS 15 to iOS 15.4 running iOS devices. Also, it is compatible with iPhone 13 and A15 running device models.
Virtual Jailbreak Methods
You can use virtual Jailbreak methods such as Hacksnow Virtual, Uncover Virtual, Checkra1n Virtual, and TiJong Xuni Jailbreak as alternative methods of Dopamine.
Developer of Dopamine Jailbreak
The official name for the tool, Dopamine Jailbreak, was released by developer opa334 featuring the new UI for the jailbreak.

The user interface, which was developed by @sourcelocation, is truly impressive and looks and feels like a professional, also it contains a user-friendly jailbreak.
Frequently Asked Questions
Q. What is Dopamine Jailbreak?
A. This is an upcoming rootless jailbreak method that is currently only available in leaked version, as the official public release has not yet been made available
Q. Is it safe?
A. Yes, it is safe.
Q. Is this new jailbreak tool support iOS 16 latest versions?
A. No, at the moment, it can only be used with iOS 15 versions.
Q. Have all iOS devices been tested with this jailbreak method?
A. While not all devices have been tested, this method has been successfully tested on several iOS device models, including iPhone 13, iPhone 12 Pro Max, iPhone 12, iPhone 11, and iPhone Xs Max.
Q. Which iOS devices are not supported by Dopamine?
A. Non-arm64e
Q. What are the key features of this new Jailbreak Tool?
A. Handling of trust cache in an automated manner.
Implementation of libkrw with the capability to write to PPL-protected memory and kcalling primitives.
Tweak injection through ElleKit.
Q. What are the latest Jailbreak news?
A. Nowadays, iPhone users are tempted to get rid of root jailbreak methods and go for rootless jailbreak methods.
As a result, this latest jailbreak method has been released as a rootless version for the first time and jailbreak developers are making tweaks that support rootless. Older tweaks are also updated to being made to support rootless.