Support Devices for Manticore tool
A14 - iPhone 12 mini / iPhone 12 / iPhone 12 Pro / iPhone 12 Pro Max / iPad Air (4th generation)
A13 - iPhone SE 2 / iPhone 11 / iPhone 11 Pro / iPhone 11 Pro Max
A12Z - iPad Pro 12.9-inch (4th generation / iPad Pro 11-inch (2nd generation)
A12X - iPad Pro 12.9-inch (3rd generation) / iPad Pro 11-inch (1st generation)
A12 - iPhone XS / iPhone XS Max / iPhone XR / iPad Air (3rd generation) / iPad (8th generation) / iPad mini (5th generation)
A11 - iPhone X / iPhone 8 / iPhone 8 Plus
A10X - iPad Pro 12.9-inch ( 2nd generation ) / iPad Pro 10.5-inch
A10 - iPhone 7 / iPhone 7 Plus / iPad (7th generation) / iPad (6th generation)
A9X - iPad Pro 12.9-inch (1st generation) / iPad Pro 9.7-inch
A9 - iPhone SE 1st Generation / iPhone 6s / iPhone 6s Plus /iPad (5th generation)
Support iOS and iPadOS for Manticore tool
iOS 14, iOS 14.0.1, iOS 14.1, iOS 14.2, iOS 14.2.1 and iOS 14.3
Why is Manticore special?
All latest Jailbreak tools, including Unc0ver / Taurine / Checkra1n, only support specific package managers like below.
Cydia is the default package manager for Checkra1n and Unc0ver
Sileo is the default package manager for Taurine
But as per the Manticore Developers, all Package managers such as Cydia / Sileo / Zebra and installer support Manticore.
Manticore Safari method
Developers have published the Manticore Safari UI Design concept on their official Twitter page.
So if they can release the Safari base version of the Manticore tool, it will be massive news for the jailbreak community.
Utilities of Manticore
Mobile game cheats/hacks is the primary utility of the Manticore tool. The CheatManager will be released along with the tool.
CheatManager is an On-Device mobile platform and allows users to install,distribute, and create cheats/hacks for mobile games.
Read more about CheatManager
Manticore for Apple Watch Jailbreak
Developers published a poll and asked for additional support for the tool. Once they get all the answers, they are going to announce something special for Apple Watch OS Compatibility.
Current Progress of Manticore
Feb 20 - Manticore UI published
Apr 17 - CheatManager on-device Utilities announced
https://twitter.com/ManticoreCode/status/1383147665689575424
Aug 17 - GeoSn0w Join with the team

Aug 26 - UI published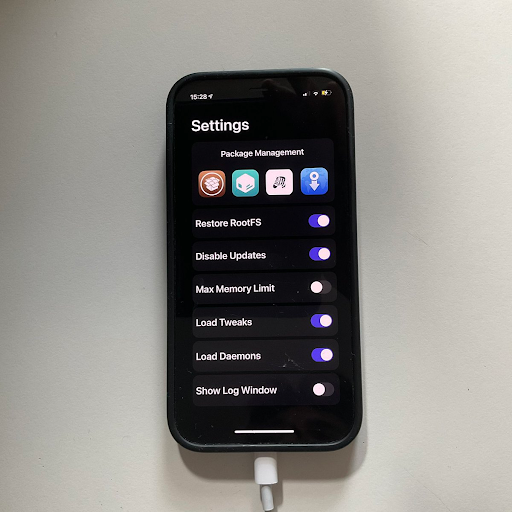 Sep 2 - (Safari Jailbreak) UI Design concept announced
https://twitter.com/rpwnage/status/1433210141168517127
Developing Team of Manticore
Rpwnage @rpwnage – Lead Developer
Cpwn (@PwnedC99) – iOS Developer
Xerus (@xerusdesign) – UI designer
Fugiefire (@fugiefire) – iOS Developer