Install Appcake
You can install AppCake to your iOS Device by taping the below install link or by visiting AppCake official website. Please make sure to use iOS Safari Web Browser to Download.
Install AppCake through Cydia
Cydia installed users also can install AppCake directly from Cydia Store. Follow below Add source guide to add AppCake source
Step 01.

Open Cydia



Step 02.

Tap Edit Button



Step 03.

Tap Add Button



Step 04.

Enter below URL


http://cydia.iphonecake.com

Step 05.

Tap Add Source



Step 06.

Successfully installed AppCake source


Appcake for iOS/iPadOS 15 to 15.1
Still no full jailbreak for iOS 15 to iOS 15.1 including iOS 15.0.2 and iOS 15.0.1. So Appcake is the only option to install jailbreak apps and tweaks for iOS/iPadOS 15 version.
Appcake for iOS 14.8.1 to iOS 14
Appcake currently supports every Device running iOS / iPadOS 14.8.1 / 14.8 / 14.7.1 /14.7 /14.6 / 14.5.1 / 14.5 / to 14. Still no tethered or untethered jailbreak available for 14.8.1 to iOS 14.4 running above A12 Devices. So Appcake and similar tweak app stores are the only options to install Jailbreak applications.
Please Note >
Unc0ver Jailbreak tool support installs Cydia for iOS 14.5.1 to iOS 14.4, running A12 / A13 and A14 Devices.
Checkra1n Jailbreak tool support installs Cydia for iOS 14 to iOS 14.8.1 running Devices except iPhone 11 Pro, iPhone 11, iPhone 11 Pro Max, iPhone XR, iPhone XS Max, iPhone XS, iPhone XS Max and iPhone 12 models.
Appcake iOS 13.7 - iOS 13
Appcake officially supports all iOS versions including latest iOS 13.7 / iOS 13.6.1 / iOS 13.6 / iOS 13.5.5 / iOS 13.5.1 / iOS 13.5 / iOS 13.4.1 / iOS 13.4 / iOS 13.3.1 / iPS 13.3 / iOS 13.2.3 / iOS 13.2.2 / iOS 13.2 / iOS 13.1.3 / iOS 13.1.2 / iOS 13.1.1 / iOS 13. Also AppCake is a Cydia alternative for the latest iPhone 11 , 11 Pro and 11 Pro max Devices.
Appcake jailbreak apps
Cydia Impactor tool not updated after the iOS 12 version. So at this time all iOS users can use AppCake as a Cydia Impactor alternative. At this time, all iOS users can install most jailbreak IPA through the AppCake app as without a PC.
Appcake 7 Installer ( Cydia Version )
After installing the Appcake Jailbroken version, you can add Appcake 7 Cydia version.
Install Appcake Cydia Repo
Step 01.

Once you add the Appcake Cydia repo, open it from the Cydia Source page.



Step 02.

Then go to Appcake Tweaks Tab > Now install Appcake 7 Installer.





Step 03.

Now open Appcake 7 From your Home Screen.




Appcake 7 App Features
Latest Tab > Tab for Latest Applications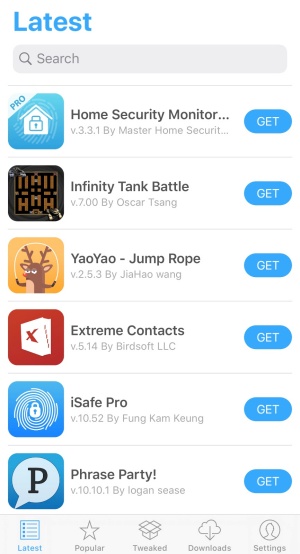 Popular Tab > Tab for popular Applications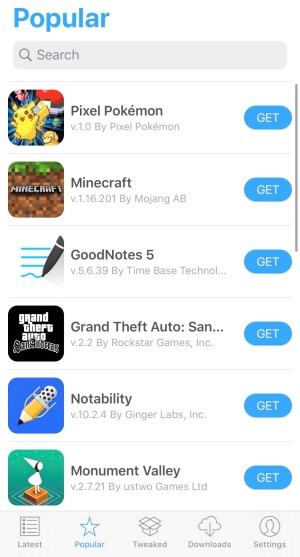 Tweaked Tab> Tab for Tweaked Applications. From this Tab you can install most tweak applications without PC support. Also, you can install the most popular Jailbreak tools online, such as PlankFilza, Odyssey, Unc0ver, Chimere, Yalu 102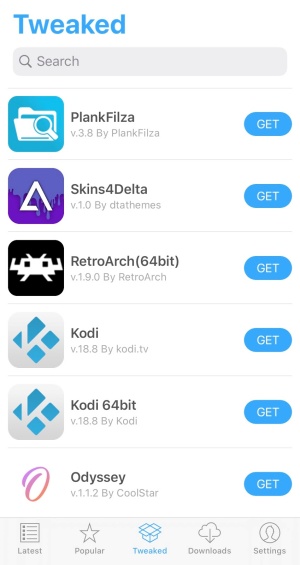 Download Tab > Tab for your Downloads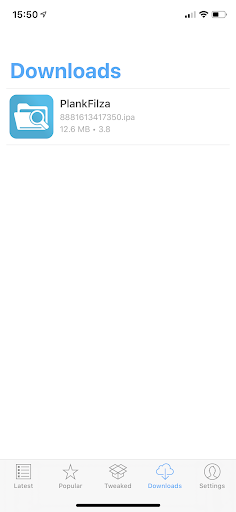 Settings Tab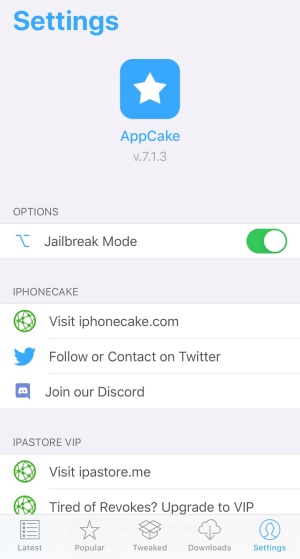 Available Jailbreak tools on AppCake
The latest Checkra1n Jailbreak tool is not available in the AppCake store because Checkra1n is still not available as a Without PC solution.
Unc0ver online Jailbreak tool
Chimera online Jailbreak tool
Electra online Jailbreak tool
Rootless jailbreak tool
Meridian Tool
Yalu Jailbreak tool
Appcake without jailbreak
AppCake works both Jailbroken and Without Jailbroken Devices. Non Jailbroken users can install similar Cydia apps with AppCake. So AppCake is a real alternative for A13 Jailbreak.
AppCake apps for Apple TV
Apple TV users also can use the AppCake app store to install Apple TV support Applications. Vist AppCake Apple tv category and check the popular applications for Apple TV.
AppCake apps for Mac
AppCake macOS support version also available for install Apple Mac applications. Just visit AppCake.com from your Mac Safari and install the AppCake Mac application.
AppCake popular categories
Books
Business
Catalogs
Education
Entertainment
Finance
Food & Drink
Games
Health & Fitness
Kids
Lifestyle
Medical
Music
Navigation
News
Newsstand
Photo & Video
Productivity
Reference
Social Networking
Sports
Travel
Utilities
Weather
Appcake revoked / Untrusted Enterprise Developer Error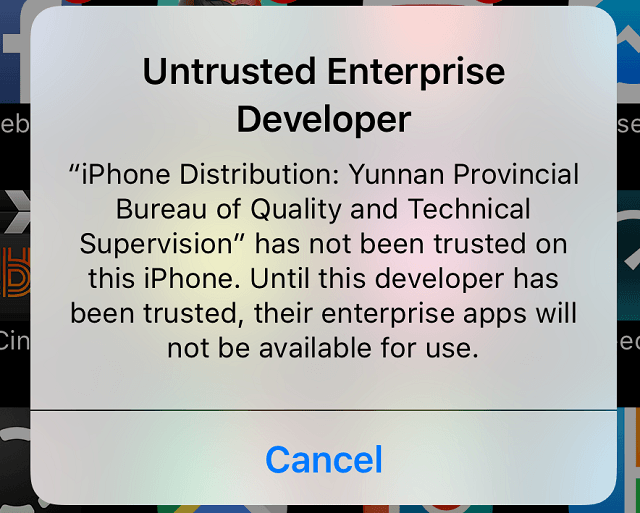 This is the most common error of the AppCake. iOS users can fix this issue after a couple of tries.
Step 01.

Enable AirPlane mode from the settings



Step 02.

Go to Settings > Safari > Clear website History and Data >



Step 03.

Disable AirPlane Mode



Step 04.

Go to Settings > General > Profile and Device management > Remove previous AppCake apps.
Note - If it does not work,I recommend waiting for the Developer update.
AppCake - No Revoke Service > iPaStore
AppCake developers recommend to use the iPaStore service when you have issues with AppCake.
Remove / Delete AppCake
You can remove AppCake from your device within a few seconds. Follow below steps to remove AppCake
Step 01.

Go to Settings



Step 02.

Go to General > Profile and Device management



Step 03.

Find the AppCake enterprise application



Step 04.

Tap Delete
Alternative for AppCake
Those are the most updated alternative app stores for AppCake. So you can use below Appcake alternatives below when revoked AppCake.
TuTuApp:

Most famous third-party app store and a perfect alternative for Appcake. At this time,TuTuApp supports iOS/iPadOS/Android and PC operating systems. You can install TuTuApp from the following button





TuTuBox:

TuTuBox is Another famous alternative for Appcake. There is a huge app list in the TuTuBox library. iOS / iPadOS users can install TuTuBox from following install button.





AppValley:

Most Famous alternative for AppCake at this time. AppValley also supports both Jailbroken and non-jailbroken iOS devices. You can install AppValley directly from here.




TweakBox:

TweakBox currently shutdown and Developers not updating the TweakBox. But still, you can install some limited applications from TweakBox.




IPAStore:

Another famous alternative for the AppCake app store. But there are lots of annoying advertisements in IPAStore. You can use IPAStore once Apple revoked the AppCake application store.




Hexxa App Store:

Repo extracting method to install Jailbreak applications. Hexxa Plus supports both jailbroken and non-jailbroken Devices. Visit the Hexxaplus.com web site from your Mobile Safari and install it. Hexxa Plus repo extractor method supports the latest iOS 14.2 / iOS 14.1 / iOS 14.0.1 and iOS 14.




zJailbreak:

Famous third party application store for jailbroken and non-jailbroken iOS devices. zJailbreak supports iOS 14.2 to iOS 14 versions. Just open the zJailbreak.com website from mobile Safari and install it. Otherwise, tap the below link to install.



PC alternative for Appcake
Apple enterprise app revokes the main issue of Appcake. Once apple revoked the apps of Appcake, you cannot install apps from the Appcake.
So Sideloadly is the perfect alternative for Appcake. You can install any Jailbreak IPA from Sidelodly Cydia impactor alternative.
Download Sideloadly Cydia Impactor alternative
Sideloadly still supports Windows operating system, and the Mac support version will be released soon.