Dirtyc0w jailbreak
Dirtyc0w is a new method that supports installing jailbreak tweaks without a Cydia or sileo. Now you can manage all dirtyc0w exploit tweaks from the misaka tweak manager.

This bug was discovered by researcher Ian Beer and affects iOS and iPadOS versions 15 through 16.1.2.

From this new method, you can change the default font / Change the theme / Dock hide and remove the background / Remove the Home bar, and many more jailbreak features.
Support iOS/iPadOS for DirtyCow exploit
Unfortunately Dirtc0w exploit does not have an alternative method for iOS 16.5 Jailbreak / iOS 16.4 Jailbreak / iOS 16.3-1-16.3 jailbreak and iOS 16.2 jailbreak. But Dirtyc0w supports CowaBunga Lite version is supporting iOS 16.6 to iOS 16.

This is the full support iOS and iPadOS versions for the mac dirtycow exploit.

iOS 16.1.2, iOS 16.1.1, iOS 16.1, iOS 16.0.3, iOS 16.0.2, iOS 16.0.1, iOS 16

iOS 15.7.2, iOS 15.7.1, iOS 15.7, iOS 15.6.1, iOS 15.6, iOS 15.5, iOS 15.4.1, iOS 15.4, iOS 15.3.1, iOS 15.3, iOS 15.2.1, iOS 15.2, iOS 15.1.1, iOS 15.1, iOS 15.0.2, iOS 15.0.1, iOS 15.

Also iPadOS 16.3 to iPadOS 15
Support Device for DirtyCow exploit
Dirtycow jailbreak exploit also supports the latest iPhone 14 Jailbreak and iPhone 13 Jailbreak.
latest iPhone 14 series, iPhone 13 series, iPhone 12 series, iPhone 11 series.
iPadOS 16 running iPad Pro (all models), iPad Air (3rd & later), iPad (5th & later), iPad mini (5th & later).
A8 / A8X – Phone 6, iPhone 6 Plus, iPad mini 4, iPad Air 2.
A9 / A9X – iPhone 6S, iPhone 6S Plus, iPhone SE, iPad (2017) 5th Generation, iPad Pro (12.9 in.) 1st generation, iPad Pro (9.7 in.).
A10 /A10X – iPhone 7 and iPhone 7 Plus, iPad (2018, 6th generation), iPad (2019, 7th generation), iPad Pro 10.5″ (2017), iPad Pro 12.9″ 2nd Gen (2017).
A11 – iPhone 8, iPhone 8 Plus, and iPhone X.
How to install Dirtyc0w tweaks?
The Dirtyc0w support tweaks can install from the two methods. The first one is the online method and the other method is the sideload IPA method.
These dirtyc0w apps and tweaks can manage directly from the newly released Misaka tweak manager.

The Misaka is a non-jailbroken tweak manager for dirtyc0w exploit devices. Install the misaka tweak manager from the below link. The misaka is an IPA method and you should use the trollstore / AltStore or the sideloadly method to install it.
CowaBunga Lite for iOS 16.6
CowaBunga Lite just released a new version of iOS 16.6 version. Now all iOS 16.6 users can install the following features and Jailbreak themes to iPhone and iPad.
Easy shortcut theming
Status bar tweaks
OTA killer
Device Supervision
Lock Screen footnote
Mute module in Control Center
Minor toggles and tweaks
Dirtyc0w tweaks Online install links
The Online method is the easiest one to install dirtyc0w support tweaks. To use the online method, open this page from the mobile safari and tap the install button.
Dirtyc0w tweaks Sideload install links
This is the PC method to install dirtyc0w IPA files. The AltStore and sideloadly methods can use to sideload these IPA files.
These sideload methods have a revoke issue and you should sideload again after revoking the installed IPA files.

If you want to use lifetime without revoke, use the trollstore method to install these dirtyc0w IPA files.
Dirtyc0w IPA list ( PC - Computer links )
AltStore - Remove 3 App Limit
With the Support of dirtyc0w exploit, AltStore users can remove 3 apps install limitation. AltStore 1.6.1 version released this new feature. You must install Dirtyc0w exploit support IPA through AltStore to enable this feature.
Carrier Name Change - Via Cowabunga
From the Cowabunga method, you can change the carrier name into the custom one. This process can be done through Cowabunga. Install Cowabunga from the below link first.

Then follow up this guide to change the carrier name
Open Cowabunga
Go to Cowabunga Settings
Go to custom operations
Tap the Name section and change it to - Apple Symbols
Type section should be replacing ( Tap Type section to change it )
Copy this path and paste in path section - System/Library/Fonts/Core/AppleSymbols.ttf
No tap Upload file - Download this file first and unzip it
Upload it and Tap Apply once
Tap Respring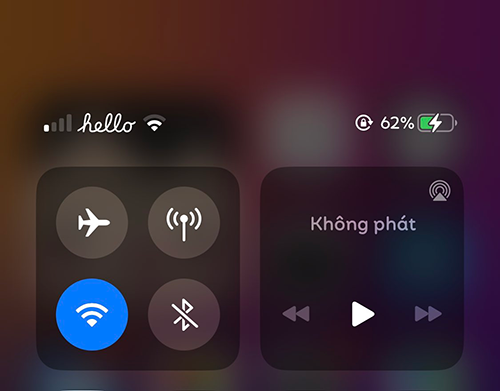 Cowabunga
Cowabunga is a springBoard Tools package store for Dirtcow exploit support devices. With the Cowabunga, users can do the following things.
Hide dock
Hide Home bar
Hide folder background
Disable folder blur
Disable app switcher Blur
Disable shortcut banner
Users can enable these settings from the setting page and tap the respring button to apply.
SFUISoft Clock
iOS 15.5.1 to iOS 14 users can change the Lock Screen clock without a jailbreak. This is a MacDirtyc0w WDBFontOverwrite support method.

First, you must install the WDBFontOverwrite app, and then you can change the Lock screen clock.

Change fonts - WDBFontOverwrite
WDBFontOverwrite is a method related to the DirtyCow exploit. With the WDBFontOverwrite, users can change the default font to a custom one without jailbreaking their device.
Support fonts
DejaVu Sans Condensed
DejaVu Serif
DejaVu Sans Mono
Go Regular
Go Mono
Fira Sans
Segoe UI
Comic Sans MS
Choco Cooky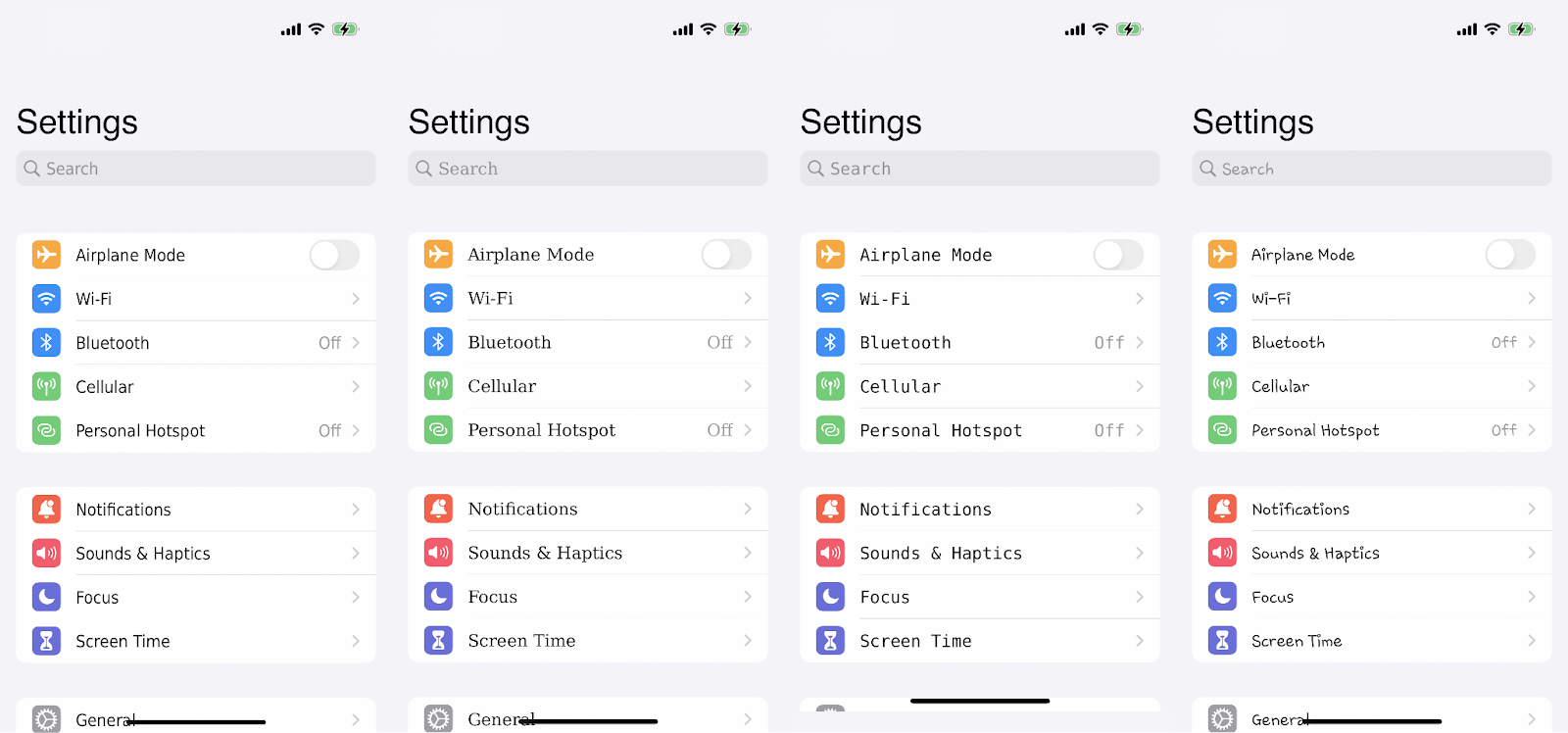 TrollLock Reborn
TrollLock is a method that relates to DC jailbreak. With the TrollLock, iOS users can replace the iPhone, and iPad unlock animation.
Custom lock faces for TrollLock Reborn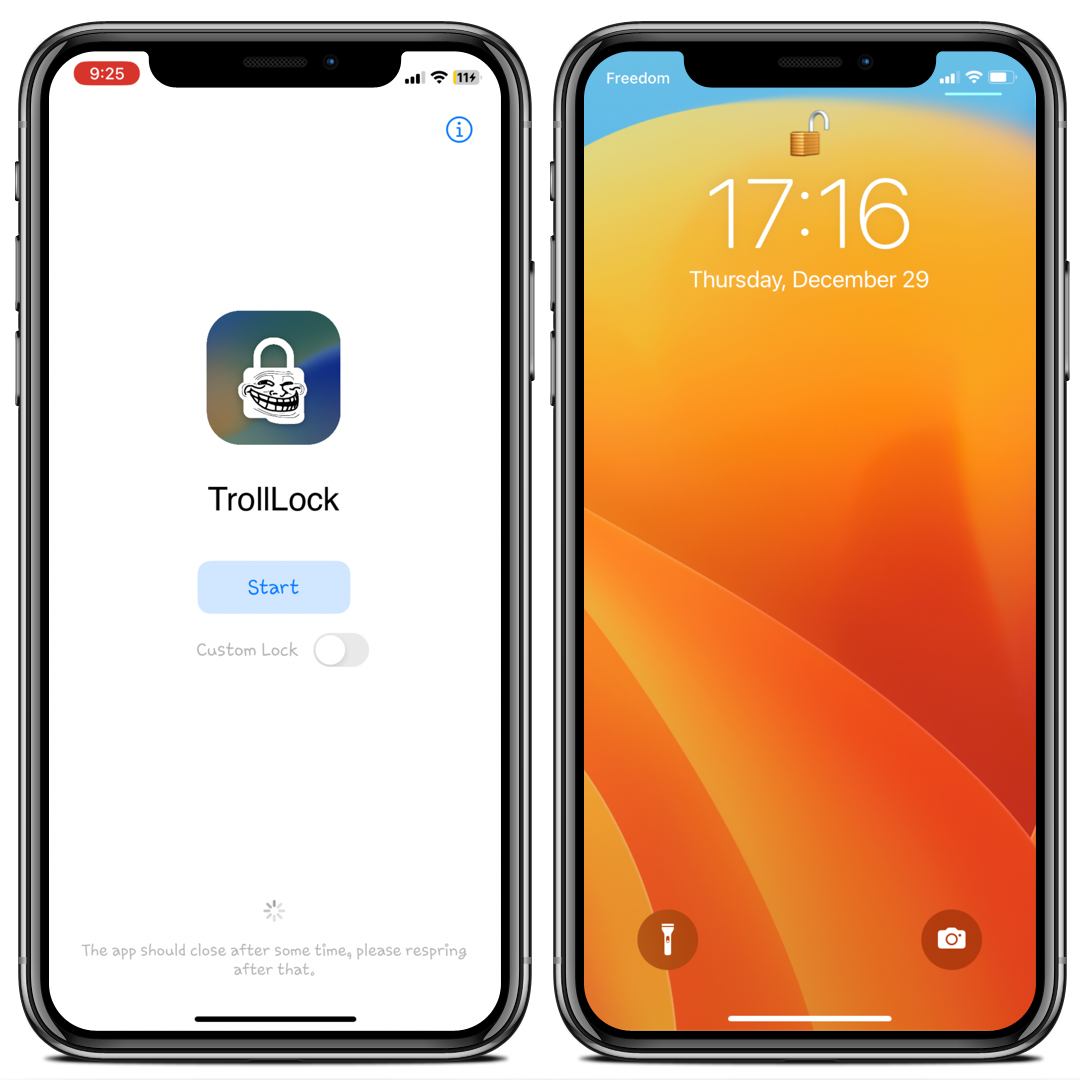 NoCameraSound
With the NoCameraSound, users can turn off ( mute ) the camera sound. This NoCameraSound method is very helpful for Japanese users.

Japanese users cannot turn off the camera sound default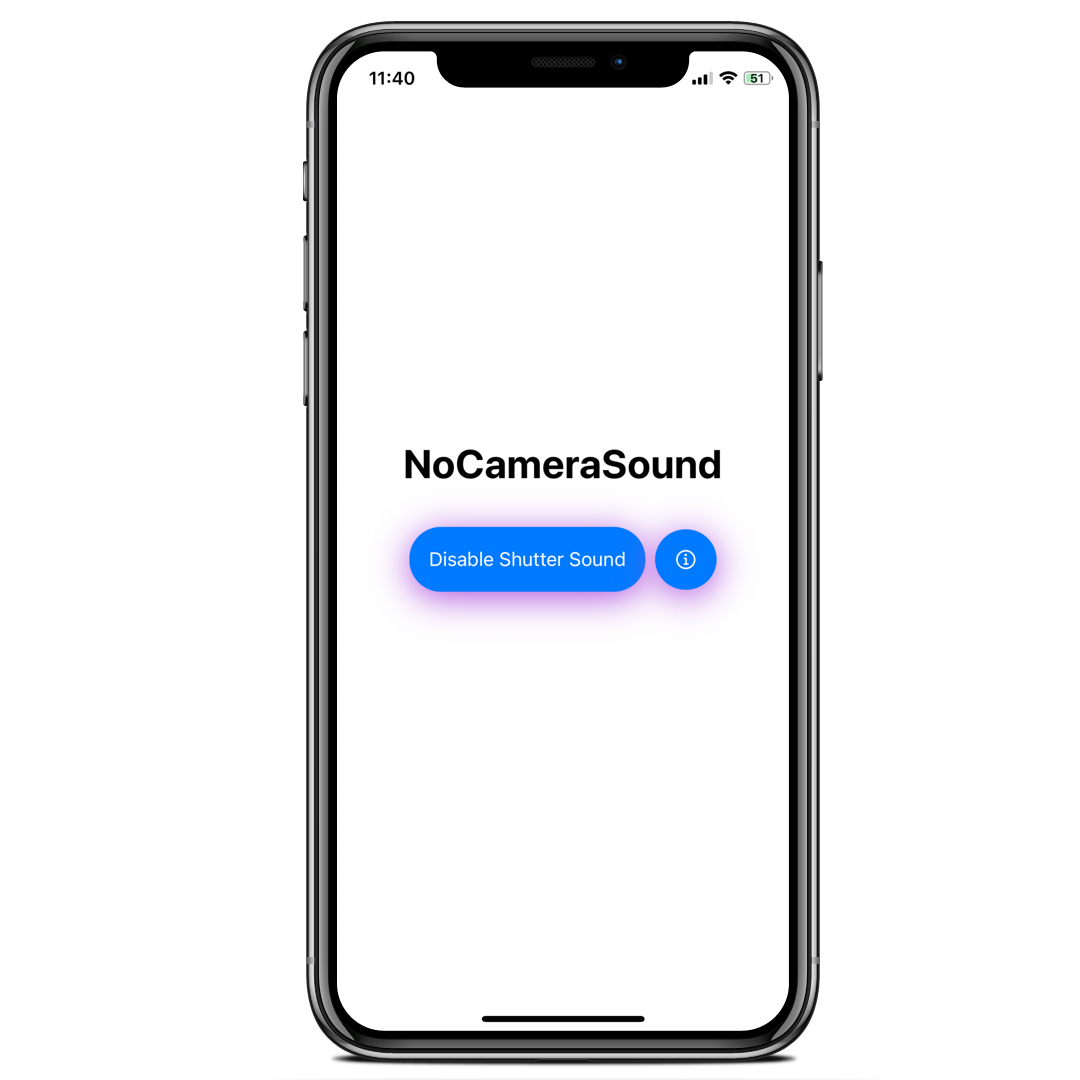 Santander - File manager
Santander is a file manager like filza. Users can get full iOS access from the Santander application. It is not only for read.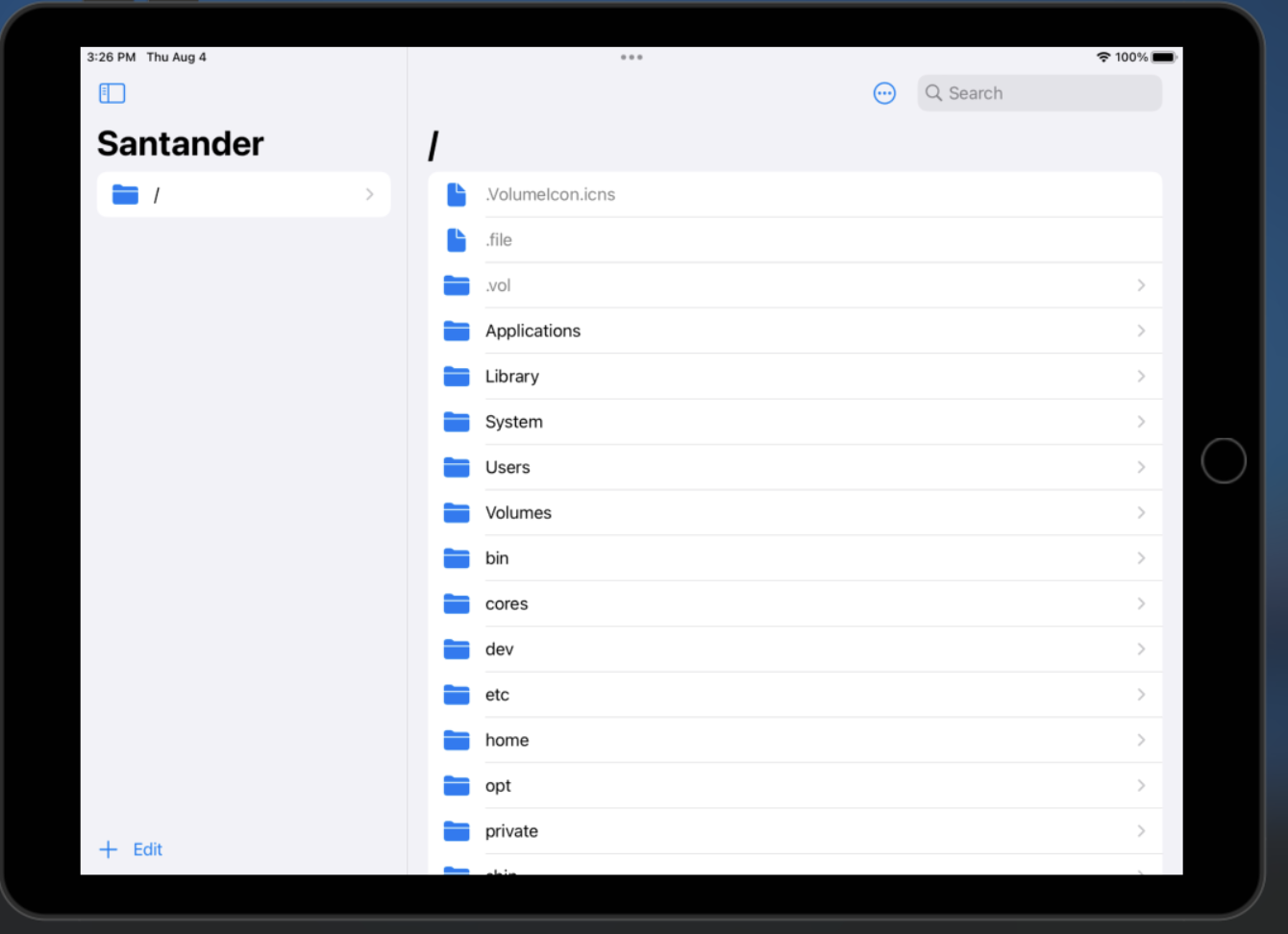 CCEnabler
With the DirtyCow exploits, users can edit the Control center's allowed modules.

CC Modules is the application that supports editing the Control center modules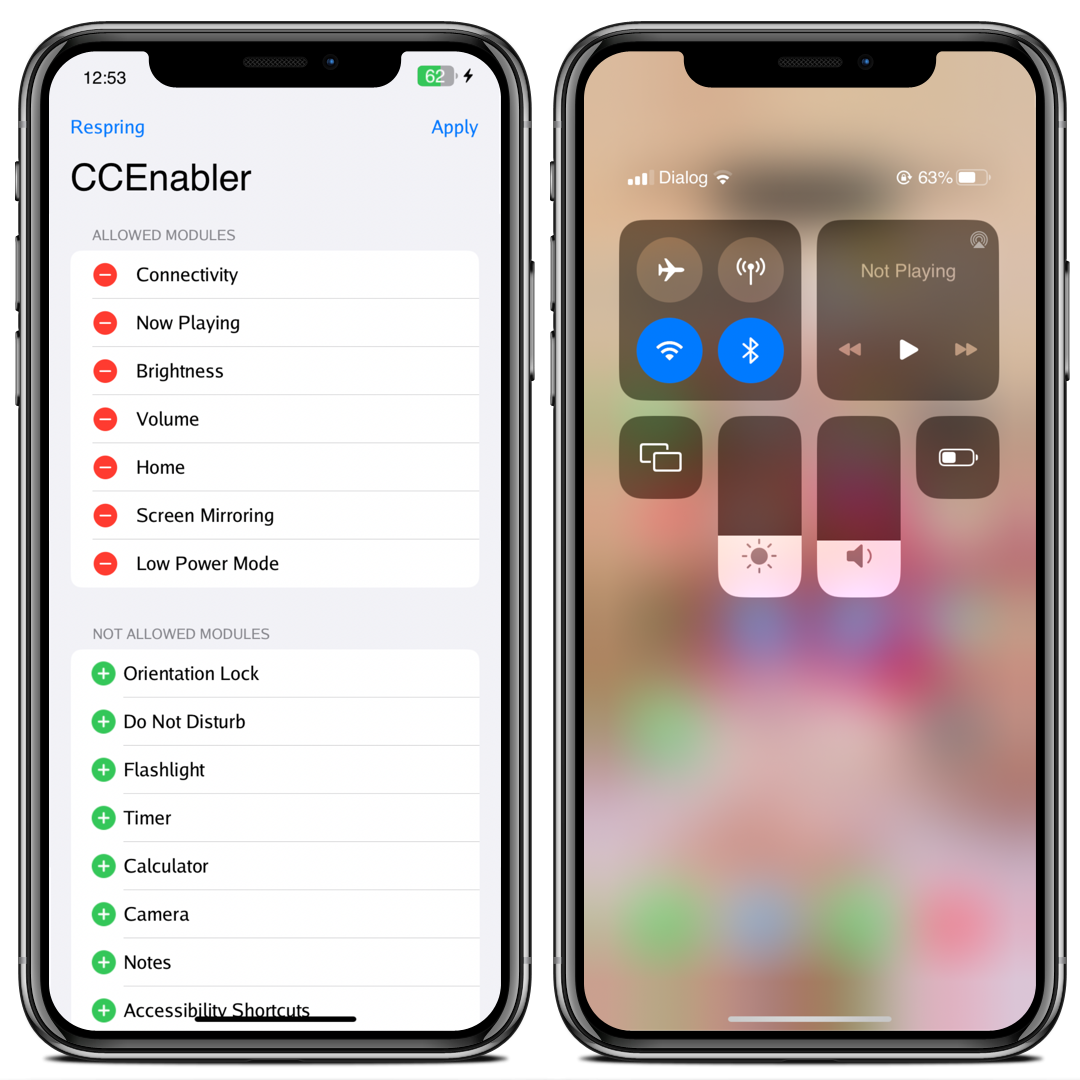 NoHomeBar ( Home Bar Hide )
DirtyC0w exploit also supports hiding iPhone Home Bar. This is also an IPA support IPA, and you should use AltStor or Sideloadly method to install it.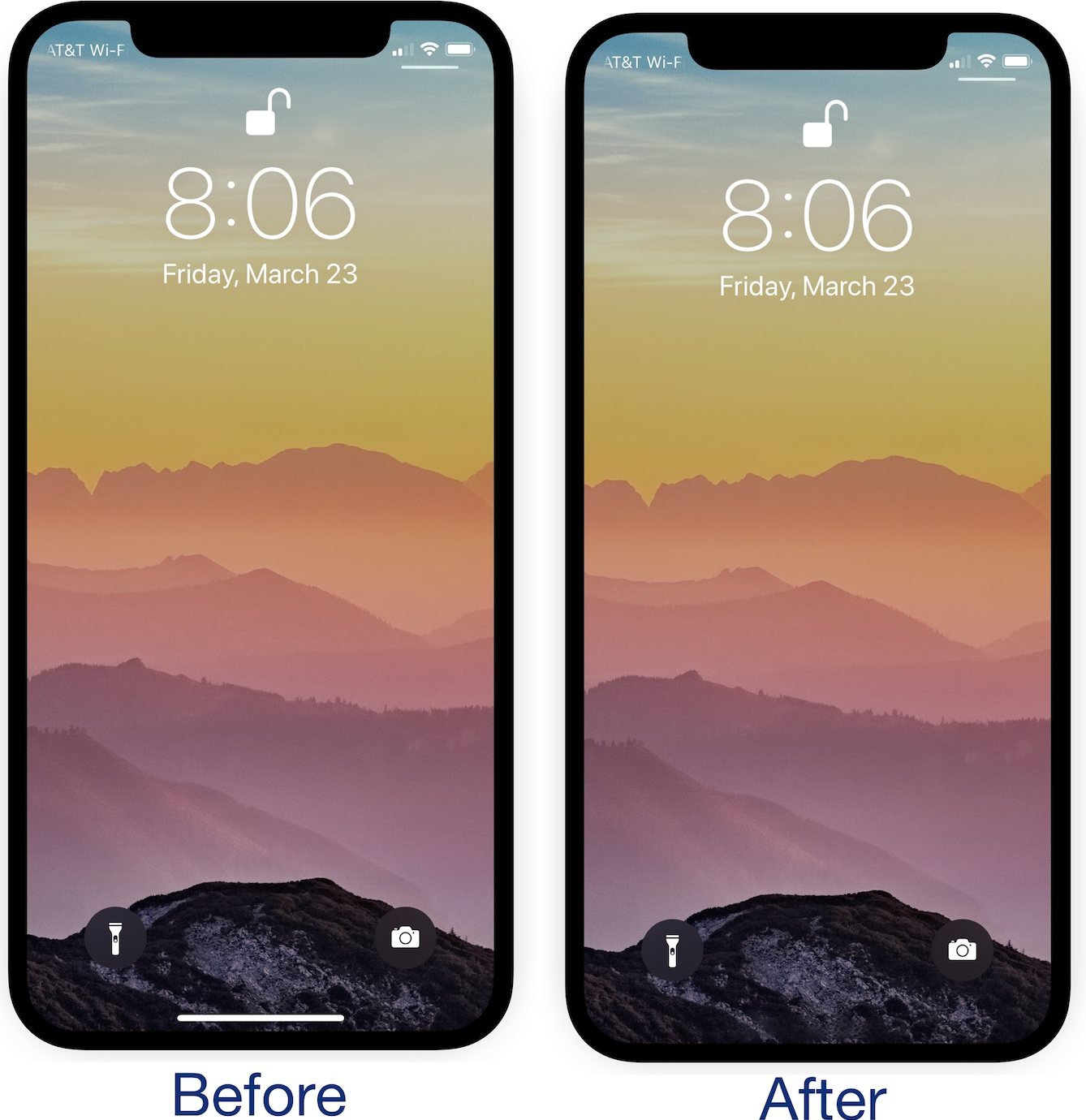 DockTransparent
DockTransparent is another dirtyC0w exploit, and you can remove the doc background from this tweak.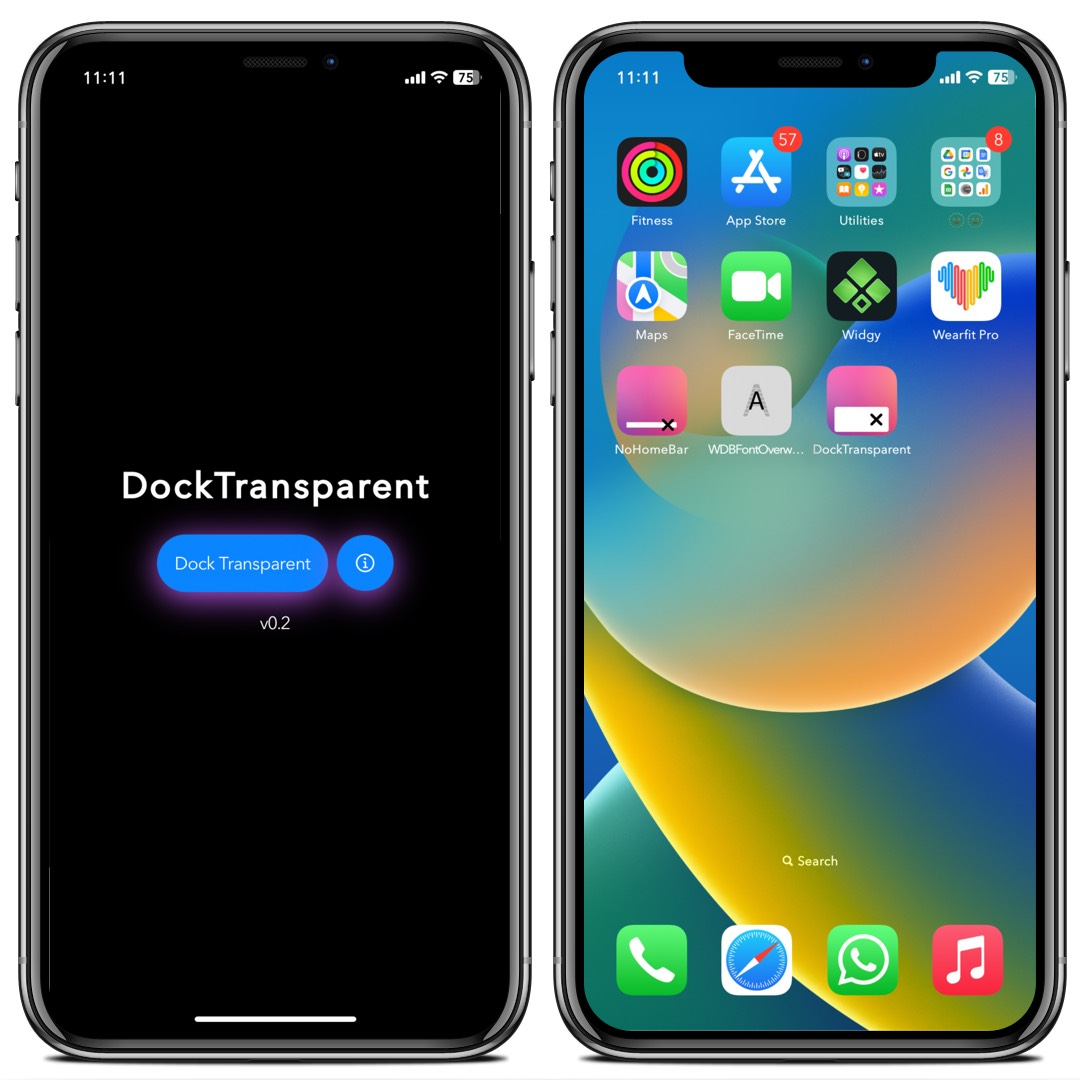 Dock Hider
Dock Hider is another Dirtyc0w method that supports hiding the Home screen dock. After hiding the dock, you can rivet it to the default settings.
DynamicCow
With the iPhone series release, Apple brought a new dynamic island feature. This feature is only for the iPhone 14 series.

But with the dirtyCow exploit, all iPhone users can apply the iPhone 14-like dynamic island feature.
FileSwitcherX
FileSwitcherX is another App that supports adding many features to HomeBar / Dock Drak / Dock light / Folder dark / Folder light.

Enable the toggles from the settings and tap the apply button. Use AltStore or sideloaldy methods to install the FileSwitcherX app.
DirtyCowApp
DirtyCowApp is an all-in-one app with several customization features for iOS 15.x-16.1.2 Devices.

Users can do the following things with DirtyCowApp.
Silent KeyBoard
Hide Dock
Hide folder background
Hide home bar
DopeCow (DopeSettings)
DopeCow (DopeSettings) is another Dirtyc0W support method to install the jailbreak feature to your iOS.

DopeCow (DopeSettings) changes your setting panel to dope.

DopeCow (DopeSettings) supports iOS 16.1.2 and below versions, and use AltStore / Sideloadly or trollstore to install it.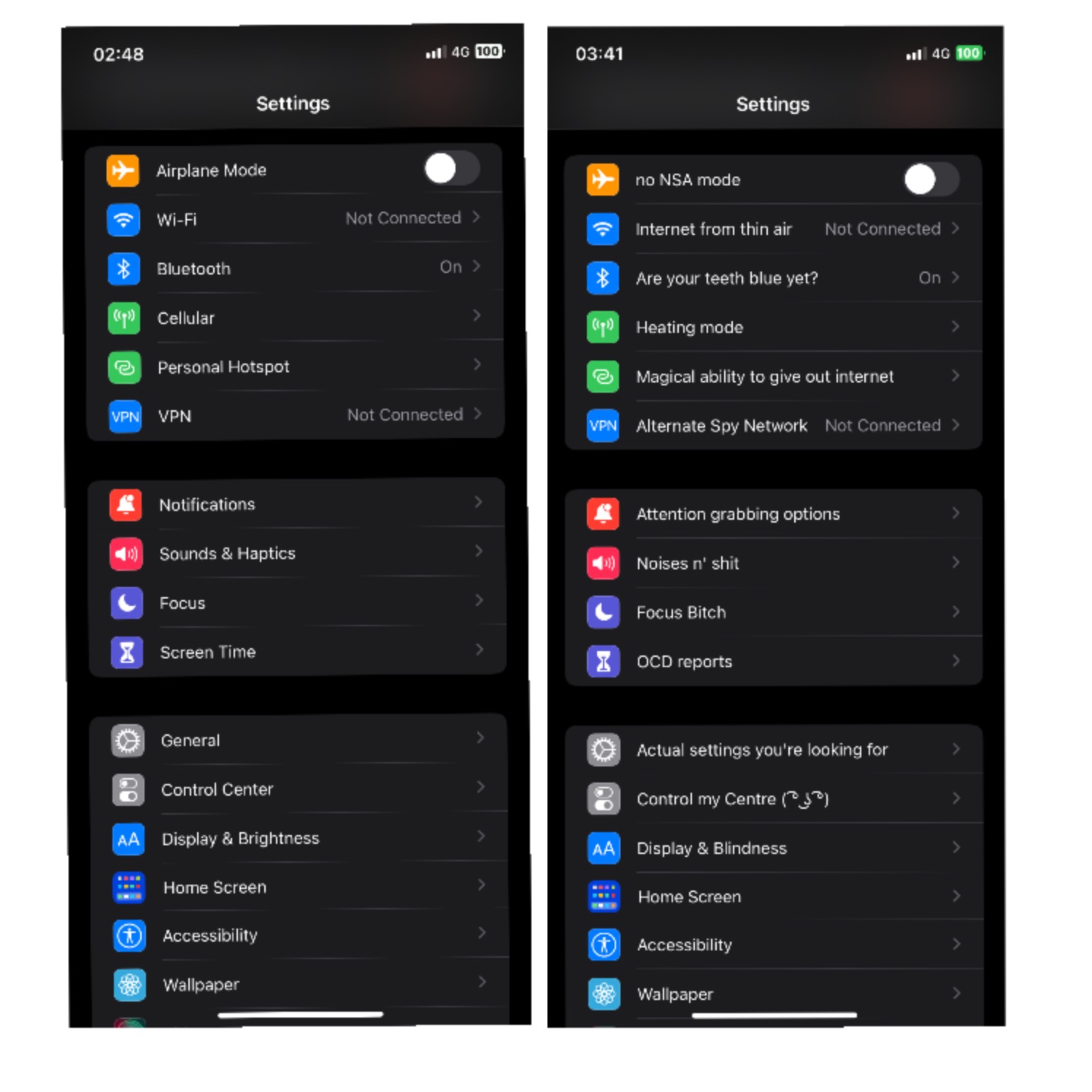 Cutenic
Cutenic is another Dirtyc0w jailbreak support tweak that supports changing the lock sound. This tweak is currently a work in progress and will be released soon for the jailbreak community.

The Winter Bagley (Casp) is the developer of this upcoming Cutenic tweak.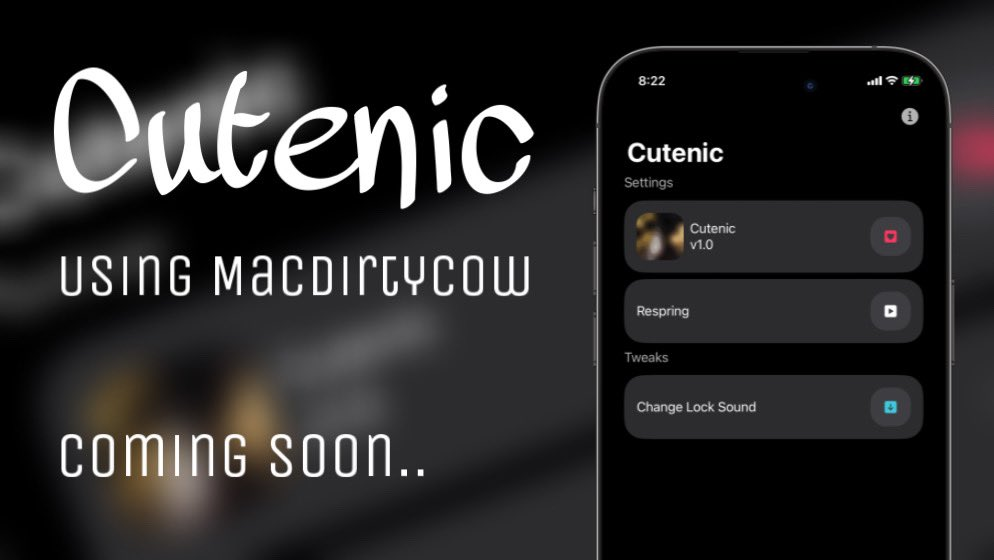 CarTube
From the CarTube method, you can play YouTube videos while driving.